Discover more from Doll Dealbook
Doll Dealbook [noun] Doll Dealbook is a weekly curated shopping newsletter defining obsessions, history and explorations of singular fashion and beauty items. Each issue offers a new chapter, focused on one themed fixation, yielding shopping suggestions.
Have you ever worn a gargantuan dress? If not, you should. Consider a dress that takes up so much space, it knocks things down as you walk past, it interferes with people too close to you, and it has absolutely no intention of being perceivably or conventionally "flattering". The enormous dress is tangential to the babydoll dress, which I've praised often for its reclamation of girlhood—and it's a sister of the full skirt, which was everywhere on the fall 2023 runways, from Vivienne Westwood to Prada. But the colossal dress doesn't align itself merely with one aesthetic. Instead, it parlays its massive shape and size into otherness; its simple Being truly a mesmerizing surprise for anyone: of any shape, gender, age or whatever. When you wear it, you are the dress; the dress is you. There's nothing else to do.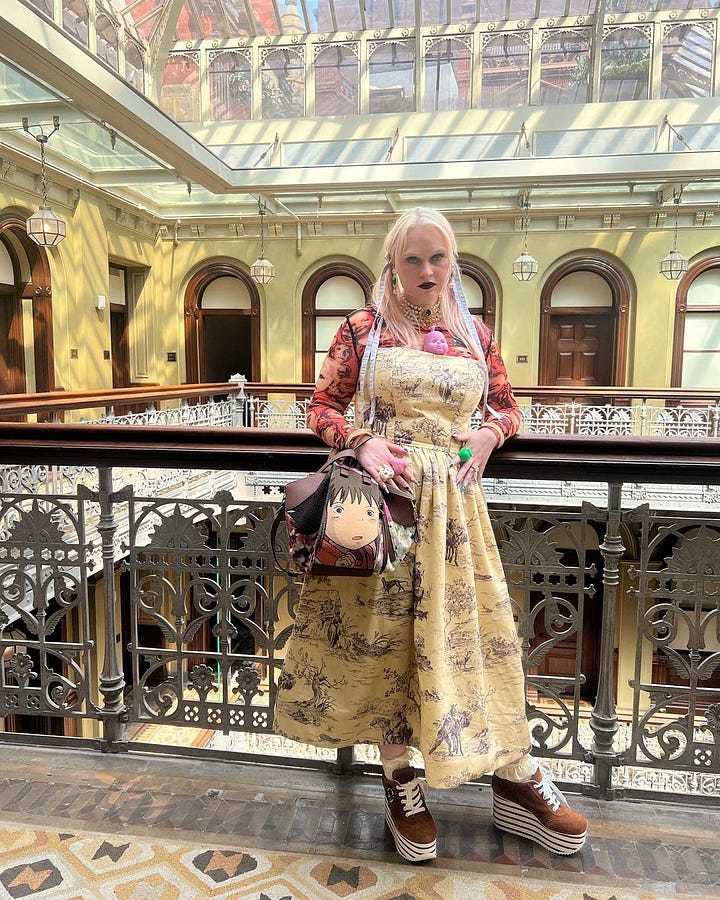 Doll Dealbook is a reader-supported publication. To receive new posts and support my work, consider becoming a free or paid subscriber.
The first ruling order of the big dress is that its fabric must be impeccable. But, that doesn't necessarily translate to expensive, because some of the best structure can come from deathly stiff vintage polyester, or modern synthetics. Some of my favorite emerging brands that upcycle textiles do a great job at creating big dresses. Take, for instance, Taylor Dorry, who makes incredible pieces from t-shirts and bedsheets. My personal favorite of hers is my quilted dress, which is so heavy and big it reminds me of a rain cloud. It's truly so effective that people can't not stop me on the street to ask about it, and it can also be layered over almost anything. The Meaning Well is another new favorite for me—I recently wore one of the dresses (seen above) this past weekend. The simple, yet vast silhouettes are cut wide and big so that each dress dramatically swishes around you as you walk; covers your shoes as you sit. Franklin Jay is another great upcycling master of bedsheets, with epic attention to volume, especially when it comes to sleeves.
I love, love the idea of more freedom of movement when dressing, and a lot of the modern versions of grand dresses go back to the flapper era, just about 100 years ago. By the 1930s, during the Great Depression, baggy clothing became even more popular for all genders. It was easier to alter and repair with time. I also love everything oversize because of all the subcultures associated with it; from hippie to hip-hop. But there's no denying it's interesting when thinking about the repercussions of monumental frocks and the fact that we're entering a recession in 2023. I think we'll be seeing a lot more of the big dress.
Finding a big dress is easy. You can go a more traditional route, with classics like Cecilie Bahnsen and Selkie, both of which have both finessed larger-than-life souped-up girlishness in excess. Big. poufy. cream puffs. Wearing both of these kinds of dresses with sneakers and boots is a fabulous favorite pastime of mine.
Mammoth dresses don't necessarily conform to any one standard—they can be short, chunky, bottom-heavy, long or even ruffled or puffed. They can be ultra feminine or tomboyish. The only important thing is that they're shockingly large. And although the pro of any big dress is that it can be utilized for formal events—weddings, galas, fancy dinners etc.—I think they look even better when they're worn for real life. Think: over jeans, or paired with a printed cropped jacket in an opposing colorway. That's when things get chaotically good.
The best news you've probably heard all week? We've just arrived at peak big dress season. It's the time to wear them; when they can live up to their full potential and be totally unobstructed by coats, scarves and other layerings.
Here's the scoop on big dresses to shop now, at every price point. Even if you don't shop any of these—you can use them as inspiration for finding the right ones for you.
Kika Vargas Gina balloon-sleeve taffeta mini dress, $478
Bigger is better and nothing blossoms and blooms like Kika Vargas's poof-like creations.
Dream Sister Jane Squareneck Organza Midi Dress, $197
Another one of my favorite brands for big dress territory. Wearing a big dress in red? You're doing the most and it works.
ASOS LUXE chiffon mini swing dress with bow in pink floral, $112
Big bows + big flowers + big dress = closer to god. I don't make the rules.
By Anthropologie Puff Sleeve Dress, $160
Puff sleeves make your big dress even bigger, and as far as that goes, this one is easy.
Banana Republic Rhyah Poplin Maxi Dress, $160
This is the ultimate oversized dress to wear anywhere. It's essentially a giant button-down. Styles well over pants half-unbuttoned, or under skirts, too.
Cynthia Rowley Tallulah Puff-Sleeve Organza Dress, $375
A big chiffon dress with a dropped waist is ethereal.
Vaquera Zandra ruffled mini dress, $978
I hope Vaquera never stops making big dresses because they're some of the best. I once wore one in Paris when it was windy and I literally couldn't see because the ruffles were so massive and kept flying up in my face.
Christopher John Rogers Gingham Halter Tulip Dress, $2,493
Christopher John Rogers is king of the big dress. It's totally old world feel with everyday charm. For a more budget-friendly option you can also shop his Target collab secondhand, often for less than $50—the foiled metallic, orange and yellow highlighter frocks are perfection. I own all three.
And that's it on big dresses.
Questions? Leave them in the comments!
Until next time dolls,
Kristen
BTW. I use affiliate links when possible, which means I may get a small commission from things you buy. Thanks for your support. <3