Discover more from Doll Dealbook
Doll Dealbook [noun] Doll Dealbook is a weekly curated shopping newsletter defining obsessions, history and explorations of singular fashion and beauty items. Each issue offers a new chapter, focused on one themed fixation, yielding shopping suggestions.
Chapter 4: Absurd Shoes
Knocking at the door of out-there footwear.
We're in the middle of a weird shoe renaissance. Have you noticed it? Even the most boring of outfits; the most crushing of quiet luxury crutches have all been marked by a little bit of weirdness direct from the tippy toes. Enter: the most entry level bit of absurd shoes that have seemingly been everywhere. A classic, in my mind. The Margiela Tabis. Your neighbor who doesn't even follow fashion is wearing them.
Doll Dealbook is a reader-supported publication. To receive new posts and support my work, consider becoming a free or paid subscriber.
But beyond that, weird shoes are on the definite rise. Jonathan Anderson's Loewe is leading the charge, with one bizarre foot in front of the other. See: sandals covered in massive faux anthuriums and mini neon fox tails, Barbie-meets-Minnie Mouse puffy heels, balloon-covered chunkers (I recently DIYed my own pair in pink) and ankle boots that are wearing their own pairs of jeans. For the uninitiated, we also have Off-White's slinky heels. Acne Studios covered clogs in fluffy neon and cow printed fuzz. I really want Simone Rocha's newest iterations of ballet shoes—stacked with an icy-clear crooked heel; they are part geriatric, part fairy princess. Ancuta Sarca's sneaker heels give me the chills in a shoe euphoria kind of way. Balmain's unicorn sneakers are outright freakish... And AVAVAV's funny feet shoes defy everything we know about how a shoe should actually look.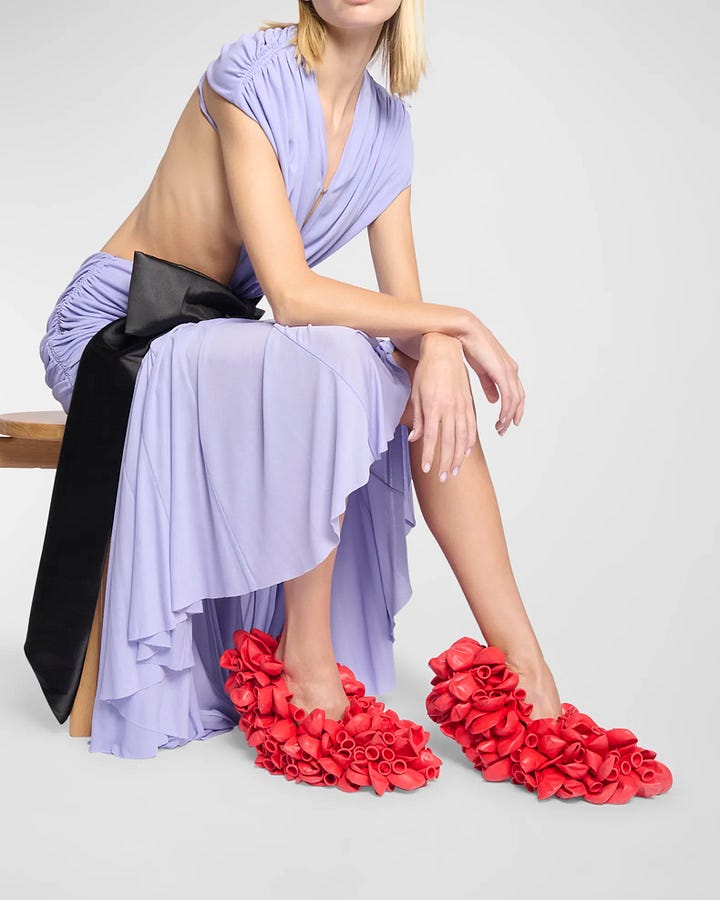 I've long been a fan of kooky shoes. Absurd shoes don't always have to be so extreme, or so expensive either. Some of my favorite kinds of peculiar footwear are rooted in specific silhouettes. A few examples: any kind of heeled sneaker (my forever favorite, which can also easily be found vintage) and heeled or platform crocs. Think of these as Absurd Shoes Lite. Another way you can get the look, though less extreme, is through irony. Like shopping a western store for an overly overdone pair of cowboy boots (if they're a bright color, all the better) or going vintage scouting for a pair of shoes from the '70s (the best decade for odd shoes in my opinion) and opting for clownish, disco platform heels.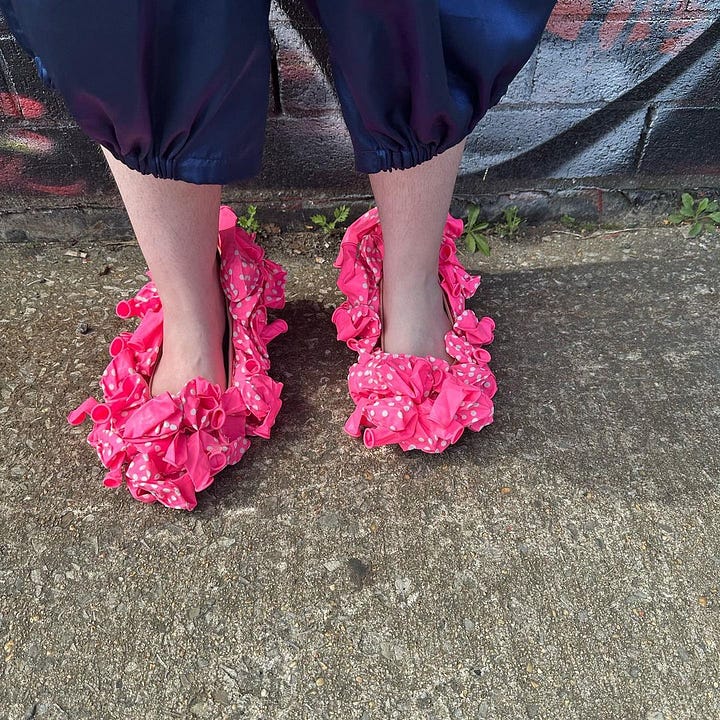 Interestingly, we're also experiencing a time period in which mega-high heels are making a comeback. I think the absurd shoe is the equivalent of laughing in the face of the towering heel. It's everything in opposition of it, really. Why else would JW Anderson launch frog loafers? Besides that, it really feels like there's three camps of footwear happening right now. Those who wear white sneakers or a similarly "safe" pair of shoes like flat mary-janes or ballet flats, the ones in heels who only wear heels, and the others in weird shoes.
We also just lived through an overly drawn-out period of surrealism in fashion, and curious stompers kind of feel like a Dada fantasy come to life. The Dada art movement, was, after all, the foundation for surrealism to come. Tate Modern describes it as "an art movement formed during the First World War in Zurich in negative reaction to the horrors and folly of the war. The art, poetry and performance produced by dada artists is often satirical and nonsensical in nature." Nearly 100 years ago, life mirrors history. If you didn't see MSCHF's shocking and ubiquitous Big Red Boots at fashion week, which created the discourse of a thousand tweets and TikToks, do you even know what nonsensical footwear is?
I implore you to try wearing a pair of absurd shoes today, for the good of all mankind.
These are my favorite absurdist shoes to shop now at every price point.
Camper Kobarah Slingback Sandal, $155
The OG weird summer shoe that's super wearable.
Merrel Hydro Moc, $59
Moms of the '90s know Merrels are covert absurd shoes, so you should too. They look like melted, tie-dye Crocs.
Charles and Keith Roony Patent Mary Janes, $83
Another Absurd Shoes Lite option that looks delectable with colored tights.
Yume Yume 105mm Heart Shape-Heel Metallic Sandals, $325
Heart heels. Need we say more?
Y/Project Melissa Pointed Floral Mules, $350
These are one of my most-worn pairs of shoes, and I can't go anywhere without someone asking what they are. The flat versions are also on sale.
Keds x Maisie Wilen Trio Platform, $109
These make it look like cotton candy blue fur is literally growing off your sandals.
Puppets and Puppets Swiss Mary Jane Wedge, $426
I dream of the Puppets and Puppets cheese shoes. There's only one size left and they're on sale.
Bonus: Jumbo Funny Bare Feet Slippers, $13.95
I'm dying to see someone style these.
Doll Dealbook is a reader-supported publication. To receive new posts and support my work, consider becoming a free or paid subscriber.
And that's it on over-the-top shoes.
Questions? Leave them in the comments!
Until next time dolls,
Kristen
BTW. I use affiliate links when possible, which means I may get a small commission from things you buy. Thanks for your support. <3