Chapter 11: Consider the Skirt Suit
Fashion that makes you feel alive; on the edge of imagined evil corporate corruption.
Lately, I can't stop thinking about my infatuation with wacky skirt suits. The kind with palatial gilded carved buttons, wicked prints, sick embroidery, shoulder pads up the wazoo and a very particular kind of esoteric niche appeal. The kind of skirt suits that literally turn heads in 2023—because trust me, they do—especially when taken out of the context of wearing them in a stale office setting. Imagine, at a dive bar, at a park picnic, in an artist's studio, or the pool. That's where you'll find me wearing a skirt suit.
The skirt suit first popped into my mind a few months ago, after seeing so many freakishly glorious vintage options from Christian Lacroix. They're completely camp and zany, very Clueless-goes-corporate when worn together, but almost punk in a new sort of way when broken apart and styled in all the wrong ways in which they were never meant to be worn. Case in point: this turquoise printed Christian Lacroix relic, which I broke up, and paired with a blood red Noir Kei Ninomiya tulle dress. Buttoned all the way up, it took on new corseted-form that elicited a number of curious stares and passionate questioning about what it was, and where I got it.
Doll Dealbook is a reader-supported publication. To receive new posts and support my work, consider becoming a free or paid subscriber.
Interestingly enough, the skirt suit is seeing a bit of a renaissance in pop culture, on the runways, and as the Barbie movie debuts. Jennifer Lopez, Salma Hayek, Chloë Grace Moretz and others have been wearing them. Saint Laurent, Prada and many more did updated takes on the skirt suit for fall 2023, while Staud and Area are redefining a new generation of power dressing with modernized skirt suits via Y2K matching co-ord sets. But a vintage one? It's a little bit weird with a lot of pizazz. It says, I'm here, listen to me.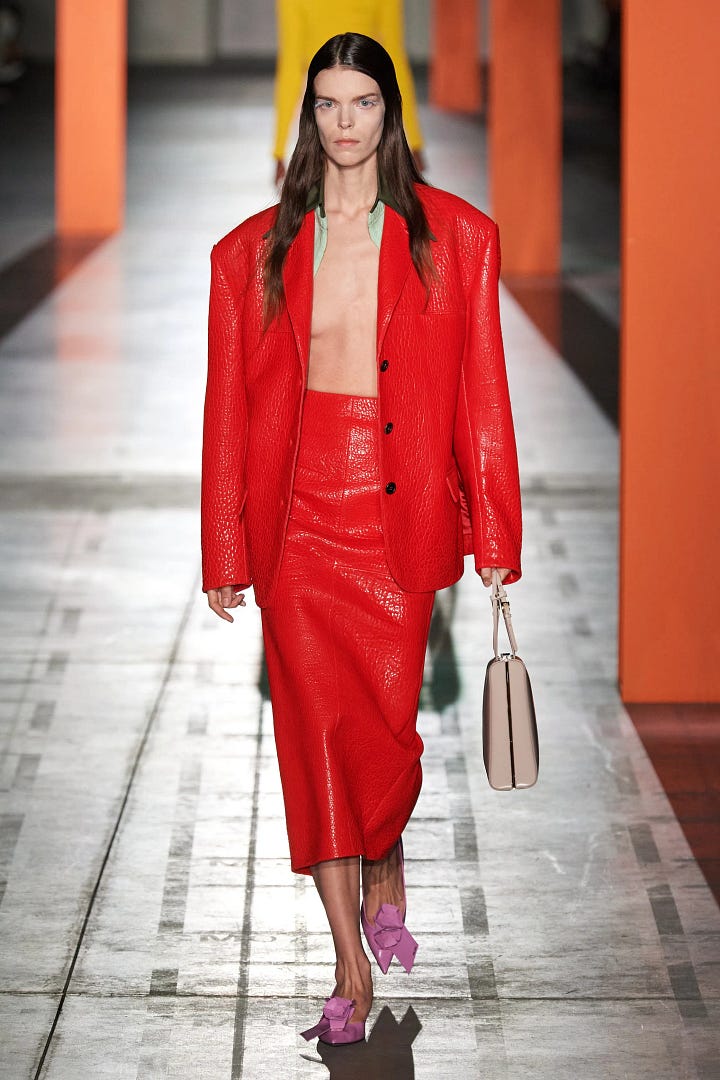 Since vintage skirt suits lack the instant gratification of wear-and-go, and require more creativity to style and carry, they're often vastly underpriced. Take Christian Lacroix's gems, which once cost close to $2,000 or more, now often priced just a little over $100, many times in great condition or completely unworn. The blue suit I bought still had the original tags from the mid '90s attached.
An easy way to instantly update the skirt suit without putting in heroic efforts of styling is to get the skirt hemmed into a mini. Other ways of styling: big sunglasses and tons of layered necklaces of different lengths, patterned or bright tights especially with an ironic print, like TYT's clown versions. The skirt worn with a distressed band tee and kitten heels. Or, layer the skirt under or over a longer sheer skirt. A big fluffy hat a la Emma Brewin also makes any skirt suit look particularly divine. Little white socks and sheer black knee-highs, too.
Fran Fine in The Nanny, the iconic '90s TV series, makes one of the best cases for wearing the skirt suit in full. Her Moschino runway looks? Unparalleled.
Before you browse through my shopping options, remember this: a good skirt suit should intentionally be a little bit ugly. All the best ones are.
Presenting the holy trinity of vintage skirt suit brands:
Moschino Cheap and Chic
The start and end to deliciously campy skirt suits. Make sure to search specifically for the Cheap and Chic line for the best options—Leopard print! Tartan! Polka dots!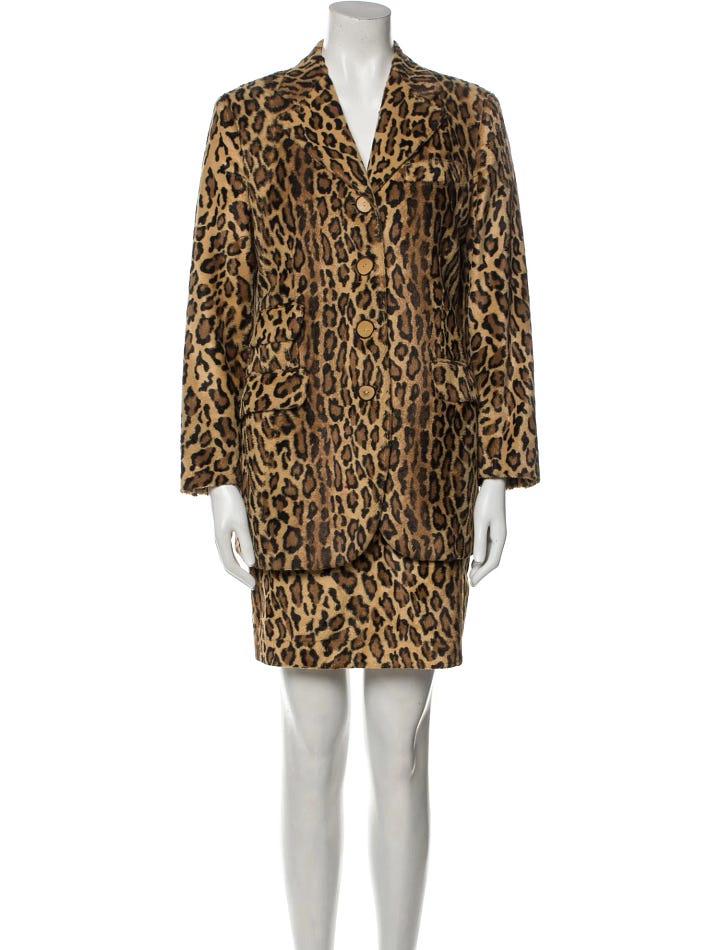 Clockwise from top left, below:
MOSCHINO CHEAP AND CHIC Vintage 1990's Skirt Suit $258
MOSCHINO CHEAP AND CHIC Vintage 1990's Skirt Suit $285
MOSCHINO CHEAP AND CHIC Virgin Wool Floral Print Skirt Suit $147
MOSCHINO CHEAP AND CHIC Vintage 1990's Skirt Suit $157
A lot of the Moschino Cheap and Chic skirt suits have been broken apart on the secondhand market. Which means… Incredible, fabulous, very cheap blazers that you can apply all the skirt suit styling techniques to.
A few insanely well-priced gems on my wishlist that you should buy so I don't have to (also, because I'm going to the Dover Street Market sample sale preview today, and I'm scared for my bank account):
Keep reading with a 7-day free trial
Subscribe to Doll Dealbook to keep reading this post and get 7 days of free access to the full post archives.